Welcome to The 1993!

If you've followed my flagship blog The Collector you've no doubt read at least one of my posts celebrating a sports card set released in 1993. It was a magical year for the hobby - and a magical year in a lot of other arenas. It was the year I became a teenager, which likely explains my affinity for the music and entertainment of said year.

The 1993 sets and sports seasons have a wealth of topics to discuss and explore. There are so many things I want to share and learn and remember.
And so on 9/3 of 2020 I decided to start a second blog, where I could explore sports cards, sets, moments, songs, TV shows, and anything else that entered the world in 1993. (Victoria Justice, how you doin'?)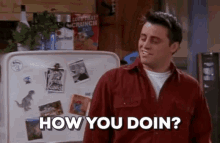 Upon further review, this Joey Tribiani gif is ineligible. Friends debuted in 1994 :/
You might be wondering why this blog is called The 1993. I chose this name for two reasons. It seemed like a lot of topics would start that way. For instance: the 1993 Upper Deck baseball set, the 1993 Stanley Cup Finals, the 1993 World Series (both won by Canadian teams!) and the 1993-94 SP basketball set - which is a topic I wanted to explore long before conceiving the idea for a 1993-specific blog.
Also, it works well for The 1975.
I'm looking forward to reminiscing about 1993 with all of you, and I hope you'll share some of your memories and favorites of that glorious year in sports, sports cards, and pop culture.
Thanks for reading!

~